Sam and Geoff meet up with Ryan Fogle of Ride OKC at a new coffee shop called NEON in Oklahoma City's Plaza District. From there, Ryan leads the group a few blocks north to the corner of NW 18st Street and Carey Place where they discuss the murder at the Hatchet House. Sam and Geoff get a call from Detective Valerie James and they began to notice a pattern in the murders.
---
Subscribe to new episodes of Tales Unveiled via Apple Podcasts, Spotify, Stitcher, or anywhere you enjoy podcasts. New episodes on Fridays!
Tales Unveiled is a production of The Show Starts Now Studios and is produced by Dennis Spielman. The voice of Sam Saxton is Dennis Spielman, with Jeff Provine as Professor Geoff DeRoot, and Kristy Boone as Detective Valerie James. If you love what we're doing, want us to keep being artist-owned and patron supported, join us on Patreon. In return, you can get bonus content, including early access to other shows from The Show Starts Now Studios!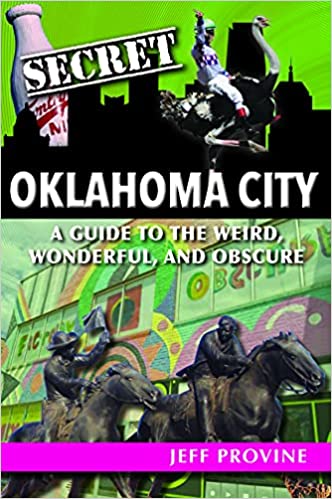 Secret Oklahoma City: A Guide to the Weird, Wonderful, and Obscure shares the places and stories that you won't hear in History class, though you probably should! Learn about the Chinese Tunnels that housed hundreds of immigrant workers underground. Visit the Overholser Mansion and see if the lady of the house is still in, sixty years after her death! Gain new respect for animal heroes at the American Pigeon Museum. Find out what a giant milk bottle is doing on top of an old grocery store off 23rd. Speaking of groceries, did you know the grocery cart was invented on the south side of town? Or that the parking meter got its start in downtown Oklahoma City?

Oklahoma farm kid-turned-professor Jeff Provine (and co-host of Tales Unveiled) has spent more than a decade learning the lesser-known tales of OKC. Come with him on a tour of the unexpected side of the City.