Cast
Dennis Spielman
Dennis Spielman is a filmmaker and writer whose most notable work is his travel and interview series, Uncovering Oklahoma. His show in 2021 won him the prestigious Media in the Arts Award from the Oklahoma Governor's Arts Awards. Dennis is the founder of The Show Starts Now Studios, which produces several series such as Art & Victory, Quarter Minutes, Tales Unveiled, and Yes! Science! In addition to his various shows, he is the author of the 16th Phoenix Universe Stories and has made several feature-length documentaries. Dennis currently lives with his wife in Norman, Oklahoma, with their dogs.
Jeff Provine
Jeff Provine collects legends and folklore in Oklahoma, relating them in ghost tours in OKC and Norman and four published volumes. He serves as a professor of English at OCCC and editor of Okie Comics.
Characters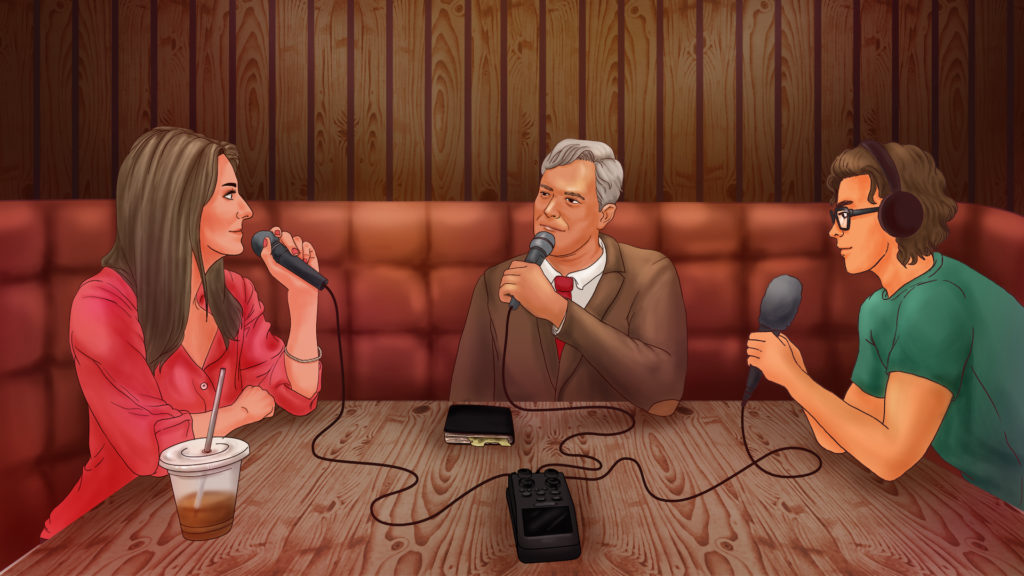 Sam Saxton
As a reporter for TSSN, Sam Saxton started the Tales Unveiled podcast as a fun way to learn about the state's history and encourage tourism through ghost stories. Although Sam doesn't believe in ghosts, he does enjoy the stories they bring out in people.
Professor Geoff DeRoot
As a professor at Oklahoma Polytechnic University and a fiction writer, Sam meets Geoff DeRoot at Overholser Mansion researching ghost stories for a project. Although the professor is a believer in ghosts, he requires facts in his interest to learn about the paranormal.
Detective Valerie James
Detective Valerie James (voiced by Kristy K. Boone) is introduced in 2×01 Remedies at Medicine Park as a personal friend of Sam Saxton who has provided information with each other for cases and stories.
Other Characters (Spoilers)
Anastasia Wheeler was an antique dealer and the deceased fiancée to Professor Geoff DeRoot. She was murdered in their home during a robbery gone wrong.
Detective West (voiced by Mel Roberts) was the detective in charge of Anastasia's murder, who according to the Professor, is incompetent and blotched the investigation.
Wendell Holmes-Harrison (voiced by Paul Evans) was an Oklahoma historical researcher and contact for Geoff DeRoot. First introduced in 1×09 Digging Up The Truth, Geoff visited with Wendell to learn about the Underground Chinese Tunnels. In episode 2×03 Eerie Edmond, Sam and Geoff learn that Wendell was murdered.